f you're visiting Flores or Komodo during your Indonesia trip, you must go on a tour to see the Komodo dragons. Visiting Komodo National Park was one of the coolest trips I've been on (if it's not the coolest). I didn't really know what to expect from these big dragons but I was surely curious.
Let's talk about how to see Komodo dragons and what are the best Komodo tours to have the best dragon experience in Komodo. You can also read more on how to get to Komodo from Bali here.
What are Komodo dragons?
Komodo dragons are basically huge lizards that live in a few Indonesian islands. They mostly live in Rinca and Komodo Islands, but you could also find them in the other islands around this area. These impressive cannibals are endangered.
They remind me of Goannas in Australia – which are smaller than the Komodo dragons.
Where to see Komodo dragons?
If you're planning a Komodo tour, you will likely see the dragons. Komodo dragons are one of the main reasons why people decide to visit Komodo. When I went on my Komodo trip with Flores XP, we saw the dragons twice.
On the first day, we saw them on Rinca Island. On the second day, we saw them again on Komodo Island.
Should you visit Rinca or Komodo to see the dragons?
If you're wondering what tour you should take to see the dragons, here are my personal opinions on both islands based on my own experiences.
Seeing the Dragons on Rinca Island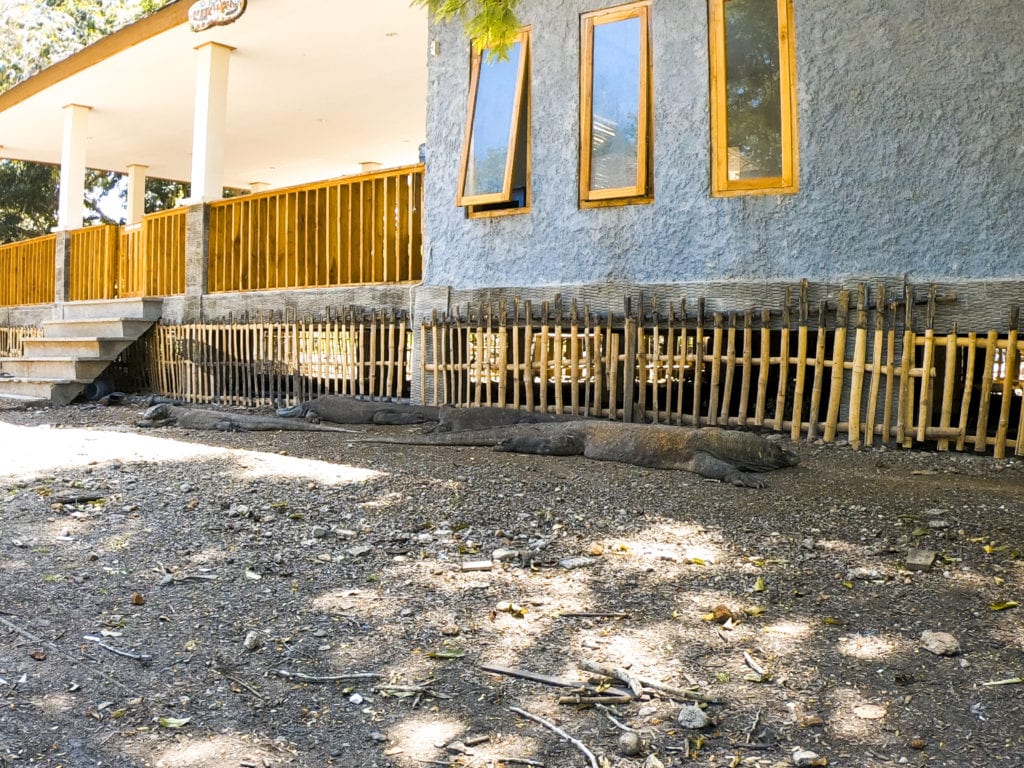 During my boat tour, we stopped at Rinca Island on the first day – we were all pretty excited about the dragons.  It was around noon and the heat was pretty intense. We would go on a trek for about an hour. We first saw the dragons in the first 5 minutes of the trek. There were about 5-6 of them laying down next to a big shed (which is basically the staff kitchen). They were barely moving.  It looks like they are feeding them or something. Honestly, it was "meh", even a bit disappointing.
Then, we started the trek and we didn't see any more dragons on the way. We basically walked an hour in the heat when we only saw the dragons in the first 5 minutes. It wasn't really worth it.
Seeing the Dragons on Komodo Island
On the second day, we stopped at Komodo Island. This time, it was pretty early (around 9 AM). We would go on a trek for about an hour again. We saw the dragons about halfway where the rangers created a man-made water hole for the dragons. There were about 10 dragons in this spot (or more) and they looked pretty alive – they were moving towards us, we could see their tongue out and it was even intimidating. This was much better in my opinion. Also, the trek was more interesting.
That being said, most Komodo tours stop at Rinca Island. I personally would have been pretty disappointed if my only chance to see dragons would have been there. I was pretty amazed by Komodo Island in terms of dragons and I felt lucky my tour was covering two dragon spots.